Lady Gaga Cancels Performance in Indonesia Over Threats of Violence
An Islamist group threatened to "put a stop" to the concert.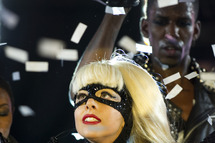 Lady Gaga was forced to pull the plug on a planned Sunday performance in Jakarta, Indonesia after the often violent Islamic Defenders Front called her a "messenger of the devil" and claimed to have purchased tickets to the show in order to "wreak havoc" from within the 52,000-seat stadium venue. Authorities responded by denying the tour the necessary permits, which they vowed to continue withholding unless Gaga "toned down" her act. This being Gaga, she of course refused — but not without sending a compassionate tweet to Indonesia's little monsters.