Gillian Anderson Joins Haley Joel Osment Movie
Can the nineties give birth to itself?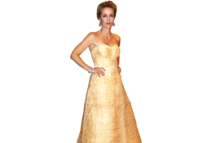 Gillian Anderson has been cast as Haley Joel Osment's mother in I'll Follow You Down, Deadline reports. The movie is described as a sci-fi mystery about a boy Erol (Osment) whose scientist father (Rufus Sewell) disappears while on a business trip of some kind, only to have Erol and his grandfather (Victor Garber) "make a shocking discovery" about what happened. Can you cram the entire nineties into one movie? You can try.