January Jones Says Fat Betty Will Return
And she will still be fat.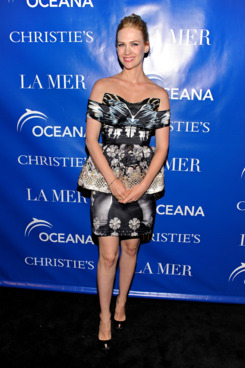 January Jones hasn't been on Mad Men as much this season, but she promises we'll see her more in the remaining episodes. Vulture caught up with Jones last night at the Oceana benefit at the Paris Theater, where she was advocating for the protection of sharks. "I just think they're magical, like unicorns," she said. (Jones is a longtime shark supporter.) Speaking of magical, whither Fat Betty? Jones told us we'll see her again. "She's not gonna just lose weight over a period of a couple episodes," Jones said, "so, yes, she's still heavy." But that doesn't mean she's, uh, gone soft. "I don't know if she's nicer, but people sympathize with her more," she said. "She's a little more emotional." Does that mean we have to call her Emotional Betty?