Jessica Biel Will Competitively Woo a Pet Lover
In <em>My Owner's Wedding</em>.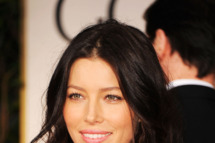 Jessica Biel is in negotiations to play one of two female leads in My Owner's Wedding, a zany-sounding rom-com about "two eligible young women, the man both of them want, and his dog," Deadline writes, adding that "the latter will go to any length to make sure his owner ends up with the right girl." Questions: Will Uggie un-retire for this, and will he choose Biel or the other lady, and who is the other lady, actually?