John Woo Remaking Yakuza Classic
He's directing a new version of <em>Youth of the Beast</em>.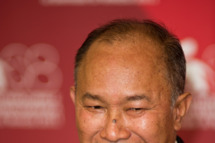 John Woo will direct a remake of Seijun Suzuki's 1963 Japanese new wave yakuza movie Youth of the Beast, the film's production companies announced today. Woo's English-language version, Day of the Beast, will follow a shady outsider who becomes enmeshed in a turf war between Japanese gangsters and Russian mobsters. The script for this new adaptation comes from Amazing Race season-one winner Rob Frisbee. Really!