Kick-Ass 2 Is Actually Happening
Will all the cast members return?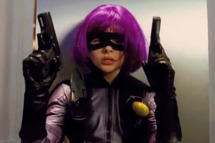 Kick-Ass comic creator Mark Millar is known for big boasts that don't always pan out, so when he said that a big-screen sequel to Kick-Ass would film this summer, grains of salt were liberally taken. But now, Deadline reports that Universal is in talks to make Kick-Ass 2, and discussions are underway with stars like Aaron Johnson and Chloë Moretz to return. Jeff Wadlow (Never Back Down) will write and direct.