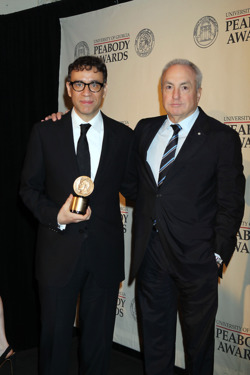 Lorne Michaels and Fred Armisen on Kristen Wiig's Farewell Segment
This weekend's season finale of SNL ended with the surprising — and surprisingly emotional — farewell to Kristen Wiig, the show's linchpin over the last several seasons. Vulture caught up with Lorne Michaels and Fred Armisen at a Peabody luncheon this afternoon, where they explained the genesis of the graduation segment, and Michaels told us who is and isn't leaving the show next season.
Michaels says that writer Colin Jost came up with the idea for the sketch, including the order the cast would walk out, and that he "just showed up and did [his] part." "It was very emotional," Michaels admits. "It was difficult for all of us, and I think mostly for her," he says.
Armisen says that it "wasn't all sadness," though. "Maya's come back, Tina's around, Amy's around, and Kristen will host," he says. "We're always doing things together. So it's a good thing. It's not like she's gone to Japan to do some soap opera. It's like, she's around."
As far as who else might be around, Michaels denies that Andy Samberg and Jason Sudeikis are also leaving the show. "What? No. Who said that? No. In no way. Absolutely not," he says. "No decision will be made on that until July ... I'm not even dealing with that yet."
Photo: Jennifer Mitchell / Splash News