Everyone Wanted a Massage From Harvey Weinstein at the amfAR Auction
"I bet Harvey would give a great massage. I think he's so sexy and smart and he's very giving."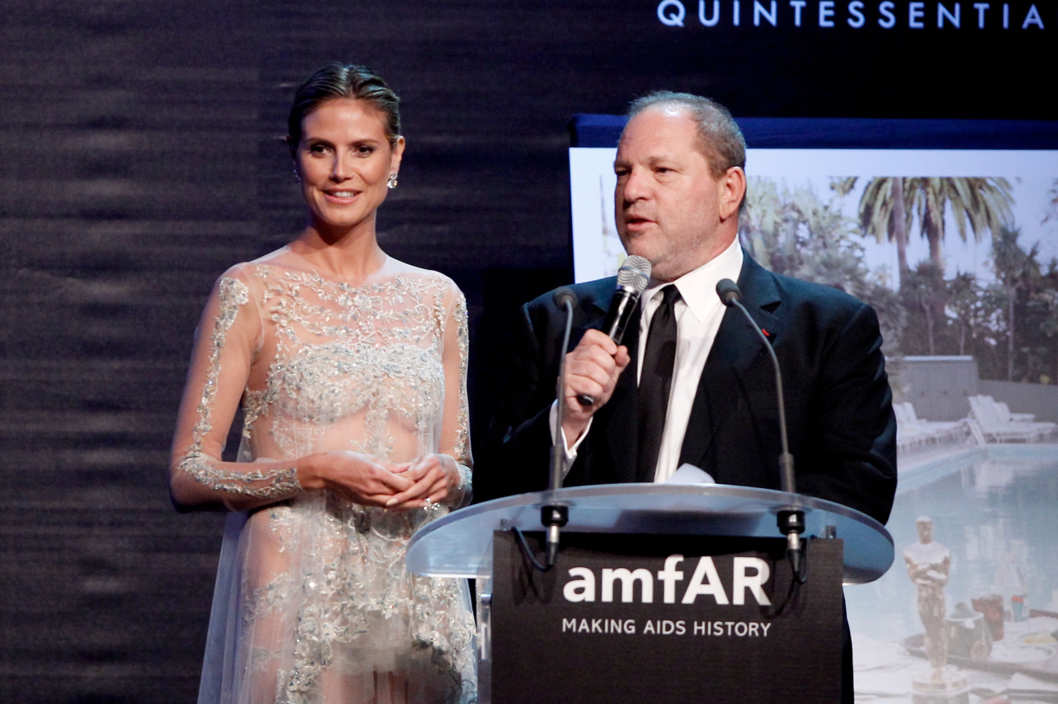 At the annual amfAR benefit auction, the swankiest event in a week of swankiness at Cannes, at the très swanky Hotel du Cap, massages became an unlikely touchstone. All thanks to Harvey Weinstein.
A longtime amfAR supporter not afraid to squeeze a roomful of rich people for money to benefit AIDS research, Weinstein was in charge of auctioning off the first lot, alongside Heidi Klum. It's unclear whether Klum was aware of what was about to happen, but as the bidding for a $150,000 Cartier watch began to peter out around $30,000, Weinstein announced, "If a man buys the watch, Heidi will give that man a massage." Suddenly bidding heated up again. This was apparently not the first time Weinstein had pulled this exact fast one on Klum. "Ten years ago we were here and you made me give a massage to James Caan," said Klum. "That went for a lot of money." Said Weinstein to the crowd, to stoke the flames further, "When James Caan got that massage, he was 70. 45 minutes later he was 50." Eventually, both the watch and the massage sold to Dream Hotel proprietor (and newbie movie producer, whose first project is Weinstein's Spring Breakers) Vikram Chatwal for $65,000. Was it a bargain or a cheat? "I'm not a very good masseuse," Klum told me later. "Plus my nails are long, so it's going to hurt.
As for Chatwal, he said he was happy with what he got, but that he probably would have paid more if it were Weinstein giving the massage. "He's got bigger hands and a meaty grip." As I surveyed the room, I found that Gossip Girl's Kelly Rutherford also held the rather odd opinion that Weinstein was secretly the gala's best masseuse. "I mean, there are guys that are really cute but you don't know if they'd be good givers. And a massage, you have to be giving," she told me. "I bet Harvey would give a great massage. I think he's so sexy and smart and he's very giving. Plus, whatever he does, you know he's going to do it well." (Klum, for her part, wants a massage from Zac Efron, whom she randomly sat next to on the plane ride over to France.)
Later, Rutherford was determined to get in on the massaging action herself, throwing down the gauntlet while onstage. "I am positive I can give a better massage than Heidi Klum," she said. She even volunteered to go head-to-head with Klum onstage if it meant more money for amfAR, though she never got to prove her skills. Her fellow auctioneer, Chris Tucker, was peeved no one thought to ask him: "I'm good at massaging! I would've gave a massage. They didn't ask!"
Tucker and others were, however, asked to stoke bids with their own skill sets. He did the moonwalk while singing Billy Jean, and Antonio Banderas serenaded the crowd with "Besame Mucho." Diane Kruger and Joshua Jackson took their act as the most charming couple on the planet to a whole new level. After apparently spotting Kate Upton, I saw Kruger run up to Jackson and excitedly ask him, "Did you realize who that was? That's the girl from Sports Illustrated! The one with the enormous tits!" Jackson laughed. "Yes, she does have enormous tits." Later, he could be overheard talking about his experience as chief boyfriend to a Cannes jury member. "I'm with husbands and wives," he says. "We all get coffee together and talk about how we can't speak to our significant others about what they're doing. It's weird, I'll get out of a movie and I'm like, 'That was great!' And she just shrugs her shoulders and doesn't say anything.
He did seem, even then, pretty confident that Michael Haneke's Amour would do well (and indeed it did, winning the Palme d'Or). Apparently Kruger had been "wrecked" for two hours after seeing it. Even Jackson, who says he rarely cries openly in movies, was bawling. "There was a joke, and I opened my mouth to laugh, and what came out was, 'Wahhhh!'" Just then, he came upon a jaunty jazz band playing on the lawn, put his arms around the musician's shoulders, and did a dance with them. Kruger looked on and smiled, "You just want to stay out here all night dancing with the band, don't you?"
Kruger finished out her evening helping auction off a short film to be directed by Karl Lagerfeld, produced by Harvey Weinstein, and starring the winning bidder or someone of his or her choosing. The opportunity went for 325,000 Euros. Afterwards, I asked the Karl why he'd neither auctioned off nor bid on a massage that night. "Because I hate massage and I don't believe in massage. I hate to be touched," he said, even while holding my hands with his supple black leather globes. So would it be safe to say that he wouldn't want to give a massage to anyone, either? "No," he said. "I am not John Travolta."