Britney Spears Seemed Less Than Enthused to Be an X Factor Judge
At the handshake event of the year, hands were not shaken.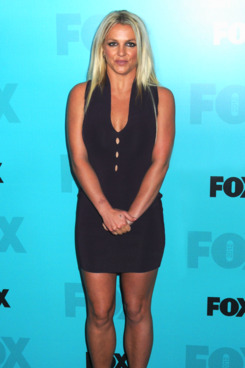 At Monday's Fox Upfront presentation, Simon Cowell introduced the new mentor whom he believed will be The X Factor's savior, Britney Spears. Cue superstar entrance! ... and then Britney, in a short, tight white dress, took the stage for all of 30 seconds, which was just enough time for her to awkwardly rush her one line of dialogue: "It's going to be so much fun and so different from anything I've ever done. I'm ready to find the true star," she said with the kind of enthusiasm normally reserved for dentist appointments.
The pop star, who is being paid $15 million for the show, later showed up to Fox's after-party for a few minutes to snap some photos with advertisers, but she remained as nervous-looking as ever, this time in shades and frozen into position between fellow new judge Demi Lovato and Cowell. Not that the Madison Ave crew seemed to care. "I tried to shake her hand, but she wouldn't," one female advertiser said after posing for a picture. "She doesn't have to, though. She's Britney! She's allowed." Nicole Scherzinger seemed like she would let a leper touch her if it meant she'd get a close-up and we saw how that worked out. Maybe an apathetic, camera-shy judge is just what this show needs? Maybe?