Michelle Rodriguez Has Strong Opinions About The Paperboy
"One of my friends said, 'Nicole Kidman's going to get nominated for an Oscar.' I was like, 'Nah, man. She's not black!'"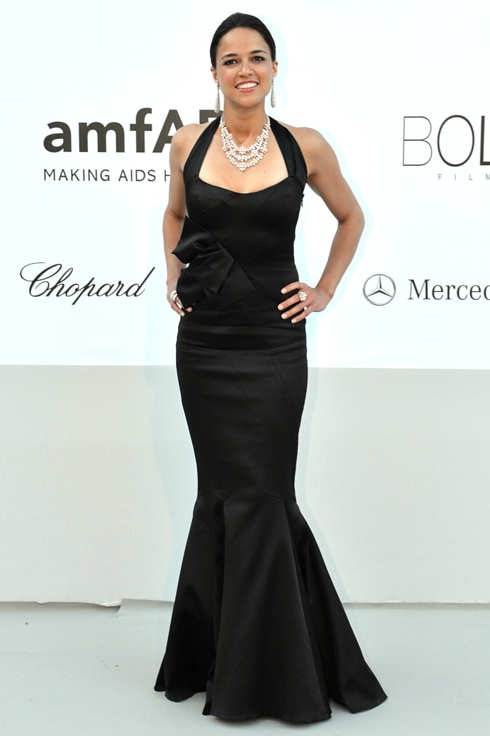 When we caught up with Michelle Rodriguez at the amfAR event at Cannes this past week, she had just come from one of the festival's most controversial movies. "I loved The Paperboy!" she told us. She wasn't daunted by some of the pans for the Lee Daniels–directed movie? "I say fuck them because they don't get it," Rodriguez replied. "He's so good at keeping me entertained. When I don't like the dialogue, I'm amused by the visuals. And when I don't like the visuals, I'm amused by the dialogue. It's always switching up senses. I'm intrigued by his ability to capture me in a theater. It's not easy to capture me in a theater — I'm ADD like that." As for those outrageous Paperboy scenes where Nicole Kidman pees on Zac Efron and arrives at a very loud hands-free orgasm, "I fucking loved it," Rodriguez enthused. "One of my friends said, 'She's going to get nominated for an Oscar for that.' I was like, 'Nah, man. She's not black!' I laugh, but it's also very sad. It makes me want to cry. But I really believe. You have to be trashy and black to get nominated. You can't just be trashy."
Rodriguez had come to Cannes as an ambassador to the Sea Shepherds organization, "and my whole thing is that it's really my priority to help those guys out, so it kind of bummed my Cannes experience," she confessed. "But I've had some really amazing parties." As well as some really amazing jewelry, we noticed. How much money was she wearing? "It's ridiculous, but it's not mine, so I don't feel so bad. Probably $2 million."
Does she ever lose her loaned gems? "All the time! On my trip here when I went to go see Killing Them Softly at the Palais, the Brad Pitt movie, I ended up losing my Jimmy Choo clutch bag, and it had my phone and my favorite spiritual jewelry." Fortunately, there won't be a security guard waiting at Rodriguez's hotel room ready to take the jewelry back. "No, love, it's a lot more laid back than that," she said. "They know I'm held responsible. I just sign a piece of paper saying that it's such. And if anything, I take the paycheck that I get for Fast and Furious and end up using the entire check to pay it off if I lose anything, you know?"