Owen Wilson Will Be Back for Wes Anderson's Next Film
They took a break for <i>Moonrise Kingdom</i>, but that's the end of that.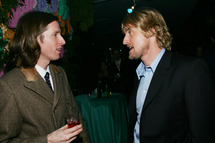 Wes Anderson's filmography will have a tiny Owen Wilson–less patch in Moonrise Kingdom, but that's it for now. The auteur's next project will indeed go back to featuring longtime collaborator and BFF-since-college Wilson, the Dallas Morning News reports (via the Playlist). "This is the first movie I've made that he hasn't been directly involved with, although he was around as a friend," Anderson says. "We started out doing this stuff together in the first place. It's a family dynamic."