Sacha Baron Cohen Wanted to Ash George Clooney, Not Ryan Seacrest
"They somehow spun the wheel of tragedy and ended up on my name," says Ryan Seacrest.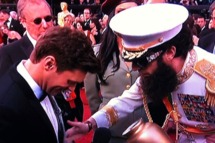 Ryan Seacrest and Sacha Baron Cohen came face-to-face at Saturday Night Live this past weekend, where Cohen apologized to Seacrest for his infamous Oscars ashing. Turns out, George Clooney was the original target. "Someone decided that wasn't a great idea because he was up for a lot of nominations, it was a big night that night," Seacrest pranked yet.