Saoirse Ronan to Star in WWI-Era Film Testament of Youth
The story follows a jaded wartime nurse and her life after.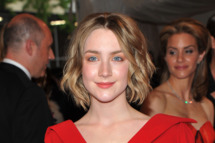 The 17-year-old Atonement actress is attached to the David Heyman–produced Testament of Youth, an adaptation of Vera Brittain's World War I memoir. Brittain served as a nurse in the British armed forces during the war and became a prolific author afterward as an advocate for peace and feminism. Recently Ronan has starred in a string of action films, including Hanna, The Order of Seven, and The Host, but it seems she'd like to revisit to her British period drama roots. Either genre has to be better than falling victim to Stanley Tucci at his creepiest.