Simon Pegg, Edgar Wright to Shoot World's End
Their long-promised trilogy-capper to <em>Shaun of the Dead</em> and <em>Hot Fuzz</em>.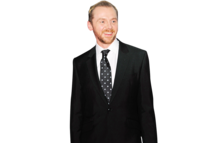 Director Edgar Wright and stars Simon Pegg and Nick Frost will finally get cracking on their long-promised trilogy-capper to Shaun of the Dead and Hot Fuzz. Deadline reports that the trio are planning a fall shoot for The World's End, about a pub crawl that turns apocalyptic. That will quash rumors (for now) that Wright's work on Marvel's Ant-Man movie would soon accelerate, adding another potential Avenger to the team.