Early Alert: Will This Be Your Favorite Show's Last Season?
<span>We rate the likeliness that&nbsp;</span><span><i>The Good Wife, Community, The Office,</i></span><span> and nine other fan faves will be wrapping things up this year.</span>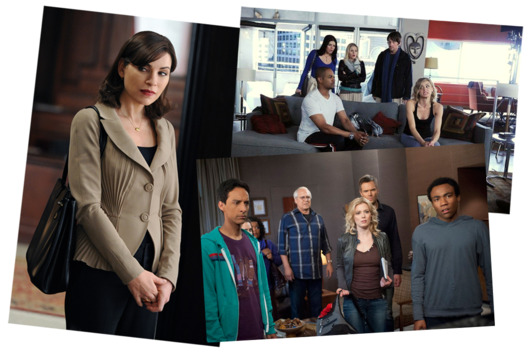 It was a good spring for TV shows on the verge of cancellation: Fringe found renewal in this universe, Community graduated to a season four (albeit without Dan Harmon), and even Cougar Town got another shot thanks to the wise folks at TBS. But at Vulture we are born worriers and have about a three-day lag time between the rushing joy of a renewal and the fretting over whether cancellation will be coming next season. This DVR-is-half-empty pessimism is especially acute this summer, as the networks are planning some radical restructuring of their schedules come fall, with established series shifting to new time slots and a ton of sexy newcomers looking to worm their way into viewers' hearts. Happy Endings did just fine when it aired behind Modern Family, but now that it's headed to Tuesdays, will its rapid-fire wit and Friends-y romantic entanglements prove as popular? And what about the aforementioned Community? Following Harmon's ouster, will fans even want to see the show survive another semester? Yes, we know: It's far too early to make any predictions (at least accurate ones) about the fates of any but the most successful or already end-date-stamped TV shows (like Fringe and Gossip Girl). But based on the new schedules, plus such factors as possible cast re-negotiations and syndication potential, we have picked thirteen veteran shows whose futures seem particularly cloudy headed into the 2012–13 season, made the case for either fretting or relaxing about their futures, and assigned an anxiety level for fans of each show. Take note: We only considered shows headed into at least their third seasons, and we didn't even begin to ponder whether Rules of Engagement will get yet another renewal from CBS. Because some things, quite frankly, are simply unknowable.
BEGIN SLIDESHOW