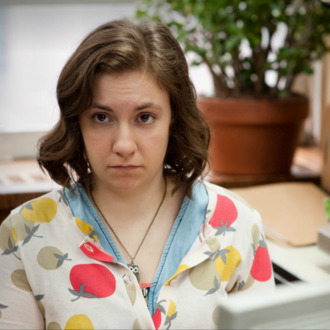 Lena Dunham on last week's 'Girls.'
Photo: HBO
Welcome to Vulture Precaps, where we combine recaps, news, and (often informed) speculation into a pre-Sunday night TV-viewing primer. 
Girls
What happened last week: Jessa tried to rally her fellow nannies, and ended up losing her charges instead; Shoshanna tried —  and failed —  to lose her virginity; Hannah told Adam she wanted him to be her boyfriend, and he seemed to like it; and Charlie and Marnie broke up, with a little help from Hannah's diary. 
What's happened since then: On Tuesday, Lena Dunham appeared on NPR to address her show's much-discussed diversity issues, a matter she said she takes seriously. Her explanation for the whiteness of her cast? She wrote the first season from the "gut-level place" of her "half-Jew, half WASP" background, while promising that season two would feature new characters, some of whom will be played by "really great actors of color." Meanwhile, co-star Zosia Mamet went on Conan to confirm that dating is about as bad IRL as it is on the show. 
What to look for tonight: Marnie struggling to embrace the single life —  after all, she and Charlie have been together since college. And then there's the matter of Hannah's potential coupled-life: somehow, we don't see it going entirely smoothly. 
Game of Thrones
What happened last week: Theon took Winterfell and mewed about his honor-less conquest like the "bruised, swaggering child" that he is. That very night, Bran and Rickon stole away. Back in King's Landing, Tyrion called King Joffrey a "vicious idiot" and slapped him across the face — always our favorite moment. Meanwhile, over in distant Qarth, George R. R. Martin's plot was ripped to shreds when Daenarys finds her entire khalasar massacred and her dragons missing.
What's happened since then: On Monday, Vulture spoke with Amrita Acharia — formerly Daenary's handmaiden Irri — who warned all Game of Thrones purists to expect lots of "twists" and hinted that Khal Drogo may not be nearly as dead as he is in the books. And Carice van Houten, the Dutch-born Melisandre, told the Los Angeles Times about the merkin she had to wear in that epic shadow birthing scene, reminding us that we're overdue for some Stannis-and-Melisandre cameos.
What to look for tonight: More of Ygritte, the wildling Jon Snow "captured" last episode, who will no doubt needle some more at Jon's oath-bound chastity. And expect Daenarys to first crumble after the loss of her reptilian children — that is, before she takes from the Temple of the Undying what is hers, with blood and fire and all the terrible awesomeness that is Daenarys Stormborn.
Mad Men
What happened last week: Pete Campbell wandered into the shaky arms of his train buddy Howard Dawes's wife, Beth, only to have her insist that it was a one-time thing. Megan finally opted out of the rat race, deciding to leave Sterling Cooper Draper Pryce to pursue her previously abandoned acting dreams. A disappointed Peggy told Joan that Megan could be "one of those girls" who's good at everything. It's possible, but even she couldn't get Don to sit through the Beatles' Revolver.
What's happened since then: It was revealed that Matthew Weiner shelled out $250,000 to give Don the privilege of shutting off "Tomorrow Never Knows" at the end of the episode. "It was always my feeling that the show lacked a certain authenticity because we never could have an actual master recording of the Beatles performing," he explained. Problem solved! Jon Hamm went viral by answering teen girls' questions on Rookie. And, in a case of professional life imitating art, it seems that Jessica Pare (Megan) could overtake Elizabeth Moss (Peggy) at this year's Emmys. 
What to look for tonight: Mad Men is notorious (and sometimes beloved) for its tendency toward obfuscation, making predictions something of a losing battle. We will say that it seems like Beth Dawes — she of the forlorn drawing-a-heart-in-a-car-window's steam — likely isn't totally out of Pete's picture. And we wouldn't be surprised if Megan's newish life leaves Don feeling a bit more threatened than he might have expected. As for our hopes? The return of Betty — fat or not.