Fans Are Trying to Get a New York City Park Named After Adam Yauch
In Brooklyn, obviously.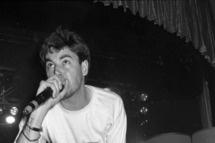 The very devoted admirers of Adam Yauch, who was recently honored on the floor of the New York State Senate, have launched a campaign to get a Brooklyn skate park named after the late Beastie Boy. City officials weren't keen on the group's original choice, Brooklyn Heights's Squibb Park, on account of it already being named for someone else (pharmaceutical manufacturer Dr. Edward Robinson Squibb). According to the Facebook page, the effort has been shifted to State Street Park.