Anne Hathaway Was Scared to Do Her Big Les Misérables Song
"I apparently looked like I was ready to face the guillotines."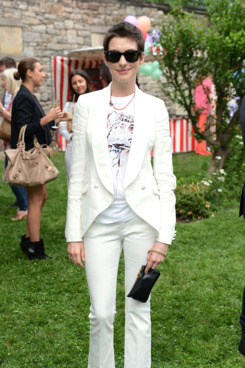 In most movie musicals, when the actors show up to set to sing, they're lip-synching to a vocal they recorded in the studio ages ago. For the big-screen transfer of Les Misérables, though, director Tom Hooper has insisted that his actors sing live on set, and audiences got a first look at his approach with the recent Les Miz trailer, which showcased Anne Hathaway's tremulous take on "I Dreamed a Dream." We caught up with Hathaway yesterday at the Stella McCartney Resort Presentation, and we had to know: Was she freaked out to sing Fantine's iconic number live on set? "Well, that's actually the thing we talked about when I first came in to film," she confided. "I apparently looked like I was ready to face the guillotines. They just kept telling me and the cast to ignore the iconic nature of Les Miz and of the song. I had to sing it as if it had never been sung or heard before." That was a tall order for Hathaway, for one simple reason: "My mom was in the show when I was a kid. She actually covered Fantine and went on the national tour, so it was a really big part of my childhood." Still, Hathaway was able to make the role her own, and that included embracing Fantine's close-cropped hairdo. "I did it for a film, so it really wasn't about me and my security," she told us, adding, "I'm just so pleased with how I look, so I now quite like having short hair."