Ant-Man Test Reel Complete
One step closer to that Ant-Man movie.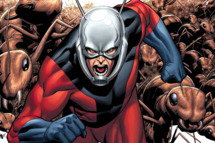 The long-gestating Ant-Man movie has taken a small (industrious! group-oriented! picnic-ruining!) step toward production. Director Edgar Wright recently wrapped production on a test reel for the movie, according to The Hollywood Reporter, which means we can all look forward to an increase in the amount of Ant-Man anticipatory chatter. "So, he's like a guy who can turn into an ant? That's his superpower?" "Pretty much." Repeat.