Azealia Banks Is No Longer a Rapper, Says Azealia Banks
But she is still rapping. So.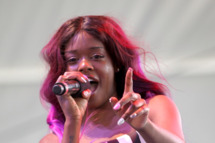 And what has noted Robin Williams enthusiast Azealia Banks been up to? She broke up with her manager; she quit Twitter; and she is "no longer wishing to be a rapper" or associating herself with the "rap game." She will still be rapping, though, so this is probably just an attempt to get lazy bloggers to stop making Azealia/Azalea flower-rapper jokes. It won't work!