Meet Breaking Bad's New Character
She's a former associate of Gus Fring's.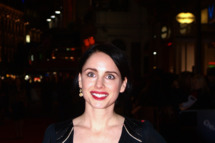 Breaking Bad comes back July 15, and so far, details about what we can expect in the new season have been scant. Now there's at least one more shred of information: BB has enlisted Scottish actress Laura Fraser to play Lydia, an "important ... former associate of Gus Fring," Vince Gilligan tells EW. She's "nervous about her place in the world," he says. Just like everyone on Breaking Bad! Which is why it is such an intriguing commentary on the malleability of identity!