CBGB Film Finds Its Iggy Pop and Patti Smith
The movie stars Alan Rickman.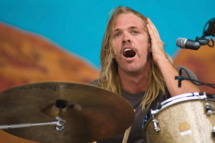 Remember that CBGB film, titled CBGB, which you're excited about 'cause it stars Alan Rickman as club owner Hilly Kristal? Today it added The Big Bang Theory's Johnny Galecki (as Andy Warhol associate and Television manager Terry Ork), The Borgias' Mickey Sumner (as Patti Smith), and Foo Fighters drummer Taylor Hawkins (pictured) as Iggy Pop. All those campy Foo Fighters videos have been leading to this moment.