CBGB Finds Another Lead in Freddy Rodriguez
The film starring Alan Rickman.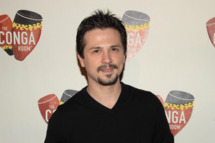 CBGB Starring Alan Rickman — not an official title; just throwing it out there — has cast one of its big roles, a junkie venue-haunter called Idaho, to be played by Six Feet Under and Planet Terror star Freddy Rodriguez. The film, an indie venture written and directed by Randall Miller (Bottle Shock, Nobel Son), is kicking off production next week. And don't forget: Alan Rickman.