Charlize Theron Sparks to Murder Mystery
It'll be kind of a vamp on Agatha Christie.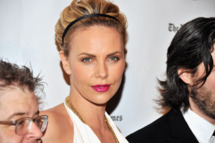 Whodunnit? Charlize Theron, it seems: Deadline reports that the actress, currently playing a dangerous ice queen in both Prometheus and Snow White and the Huntsman, is in talks for a film that has a lighter take on mayhem and murder. Entitled Murder Mystery and directed by John Madden, it's a riff on Agatha Christie that puts an American couple through their comic paces when they become embroiled in a murder plot abroad. We assume that Theron will finally get to play the good guy in this, but all the same, you might want to frisk her first.