D'Angelo Made a Surprise Appearance at Bonnaroo
It was his first U.S. performance in 12 years.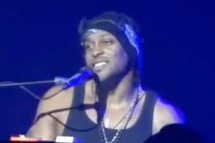 R&B recluse D'Angelo was introduced to a roaring crowd at the Bonnaroo music festival in Tennessee this morning by Roots front man Questlove, who explained that he wanted to prove to his friend that he is "so missed, you don't even realize how much you are missed." It's been nearly twelve years since D'Angelo went underground, and the world is justifiably excited about his upcoming third album. And though "visibly reserved at the start of [today's] set" — which included Jimi Hendrix's "Have You Ever Been to Electric Ladyland" — he revved up for Led Zepellin's "What Is and What Should Never Be." Fans can also look for him at next month's Essence Music Festival in New Orleans.