Drake, Chris Brown Offered $1 Million Each to Box It Out
If only this could actually happen.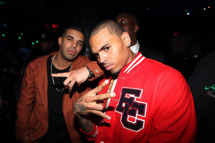 The Great Bar Bottle Fight of 2012 has inspired lawsuits, SoulCycle theme classes, and now a completely unlikely but still hilarious-sounding public rematch. Celebrity Boxing has offered Drake and Chris Brown $1 million each to duke it out at L.A.'s Staples Center. (Proceeds would go to charity.) This will never happen, but Vulture will take bets in the comments anyway.