Famous One Direction Countersues Other One Direction
Over the band name, of course.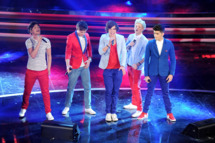 Back in April, just as the frighteningly dapper boys of One Direction were making it big in the U.S., a California band by the same name sued the British boy band for trademark infringement. As you might have expected, the Americans did not get their $1 million — but they did just get a countersuit. Tough year to be a generically named pop-rock band from Tres Pinos, we guess.