Fringe Loses a Showrunner
The show's finale season will happen without Jeff Pinkner.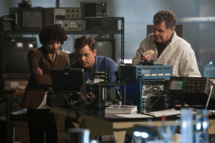 Fringe's thirteen-episode finale season will happen without one of the show's executive producers. Jeff Pinkner, who has run the show with J.H.Wyman since season two, has left the series, TV Guide reports. (Wyman will stay on and run the show himself.) Pinkner worked on Lost and Alias before Fringe, so perhaps there's another J.J. Abrams show in his future. Or maybe there's a physically identical but alternate universe/evil version of him out there, poised to wreak havoc.