Should You Be Worried About Elisabeth Moss on Mad Men?
Her co-star says she's off the show ... sort of.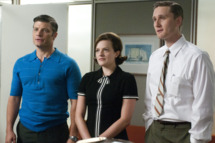 Wondering why Elisabeth Moss's Peggy didn't put in an appearance on this week's Mad Men episode? Well, The Daily interviewed Jared Harris, and when he was asked why there was no going-away party when his character was written off the show, Harris made a worrisome comparison. "Elisabeth left the episode before and she'd been there since the beginning," replied Harris. "People leave and it's just part of it. They didn't make a giant fuss." Wait ... does Harris mean that when Peggy left SCDP, she left the show entirely? Equivocated the actor, "Um ... I have no idea what Matthew Weiner intends to do and even then I couldn't tell you." Eep!