Jonah Hill Is Back in Django Unchained
But not in the role he was originally pursued for.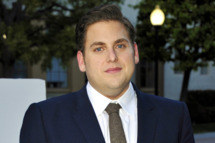 Quentin Tarantino's Django Unchained continues to experience significant cast turnover, but now the film is welcoming someone back into the fold: Jonah Hill. Tarantino originally pursued Hill for the pivotal role of Scotty Harmony, who has a sweet interlude with Django's wife, but the actor had scheduling difficulties; now, Deadline reports that Hill has returned to the production, but in a different role. No word on what Tarantino is doing with the Scotty part, which he had filled with Sacha Baron Cohen before Cohen ankled, too. Keep in mind that this is a movie with a full trailer that is coming out in six months. Whatever works!