Jonathan Lipnicki Gets Career Advice From Tom Cruise
And the human head still weighs eight pounds.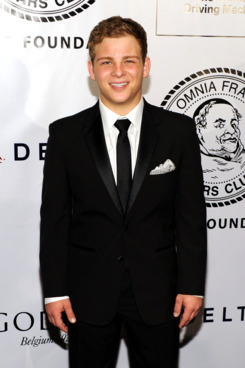 Jonathan "Did you know a human head weighs eight pounds?" Lipnicki — the adorable kid from Jerry Maguire — is all grown up and super jacked. This much we already knew. But at a tribute to Tom Cruise, hosted by the Friar's Club last night, we learned a bit more: For starters, Lipnicki has an unlikely bromance going with True Blood's Jim Parrack (his plus-one for the evening). And also: He recently turned to his former co-star Cruise for career encouragement. "I met up with him a few months ago and got his advice for my transition as an actor," he told Vulture, explaining that it all started with a "cold call" to Cruise's office. "We sat out on the patio to his house and talked about acting. He puts a lot of emphasis on being polite and manners and being on time. He said to always keep yourself busy, because then you'll always be motivated to be creative. The more you produce, the more you create, the happier you're going to be anyway." As for what he remembers from shooting Maguire, he told us: "Top Gun was my favorite movie at the time. I would always say on set, 'I have the need for speed!' And I told [Tom] how much I loved it. So I have a poster of Mission: Impossible that he signed, 'You can be my wingman anytime.' And it's one of those things that, whenever I feel down, it makes me believe in myself." We believe in you, too, Jonathan!