Josh Gad, Andrew Rannells Done at Book of Mormon
Today is Gad's last day.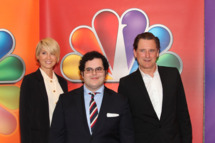 Today is Josh Gad's last day in The Book of Mormon, he announced on Twitter, and Andrew Rannells isn't long for the show either. "The countdown to my final performance at BOM starts [now]," Rannells tweeted yesterday. Both Gad and Rannells star in upcoming NBC comedies — Gad in 1600 Penn, Rannells in The New Normal — so their exits aren't a surprise, but it's still prompting a round of hasa diga eebowais from fans.