Kristen Stewart Doesn't Care About 'Sh*t Eaters'
Join the club, K-Stew.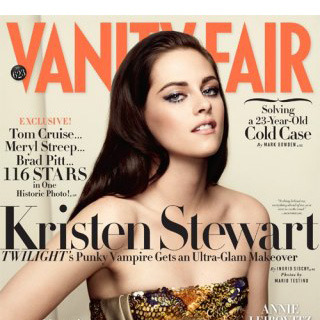 Kristen Stewart is on the cover of Vanity Fair this month and is thus the subject of a VF-trademark glowing profile about how real she is. "I'm kind of a weirdo, creative Valley Girl who smokes pot," she says, not the "slimy idiot" tabloids portray her as. Stewart says that she gets "some serious shit" about "not looking perfect in every photograph," but it doesn't phase her. In fact, she loves it. "I'm not embarrassed about it. I'm proud of it," she says. "If I took perfect pictures all the time, the people standing in the room with me, or on the carpet, would think, What an actress! What a faker! That thought embarrasses me so much that I look like shit in half my photos, and I don't give a fuck." Haters gonna hate and all. "I don't care about the voracious, starving shit eaters who want to turn truth into shit." Also, once in sixth grade a girl was mean to her.