Ang Lee's Life of Pi Will Be Promoted With 3-D Scenes in Theaters
Because it's said to be <em>Avatar</em>-esque.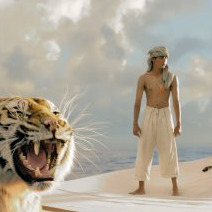 Ang Lee's upcoming Life of Pi is going to be so 3-D that it will mainly be publicized through 3-D scenes played before other 20th Century Fox 3-D films leading up to its November release. MediaDecoder reports that the survival tale of a boy and a tiger will screen scenes before the odd array of Prometheus, Ice Age: Continental Drift, and Abraham Lincoln: Vampire Hunter, in a move to show off Life of Pi's "Avatar-caliber" 3-D imagery in ways conventional trailer-viewing methods cannot. A Fox exec also refers to the film as "special and different" and "specifically a cinematic experience," so seriously don't download it or even wait till DVD. You have to see it in theaters. You have to save the moviegoing experience. With Life of Pi.