Documentary About Marina Abramovic Wins at First-Ever Champs-Elysée Film Fest
Who knew staring at MoMA patrons was so cutting-edge?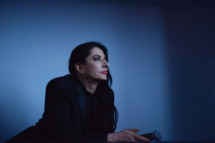 The inaugural Champs-Elysée Film Festival closed out tonight, handing its Audience Prize to Matthew Aker's documentary Marina Abramovic: The Artist Is Present, which chronicled the performance artist's 730-hour staring contest at MoMA. Despite the win, we can't help wonder just how much lustier the reception might've been if Abramovic really had let magician David Blaine disembowel her with a fire axe.