Marvel Rumored to Be Prepping 'Black Panther' Film
Might it be targeted for 2014?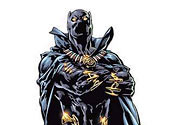 Marvel Studios still has two mystery movies on its schedule after Captain America 2 bows in 2014, and Internet buzz today indicates that the studio is keen to make a big-screen transfer of comic book hero Black Panther. Would the next Avengers lineup then include the first black superhero? Stay tuned ...