The Five Best Moments From Nicki Minaj's Hot 97 Rebuttal
"I am not a joke," and much more.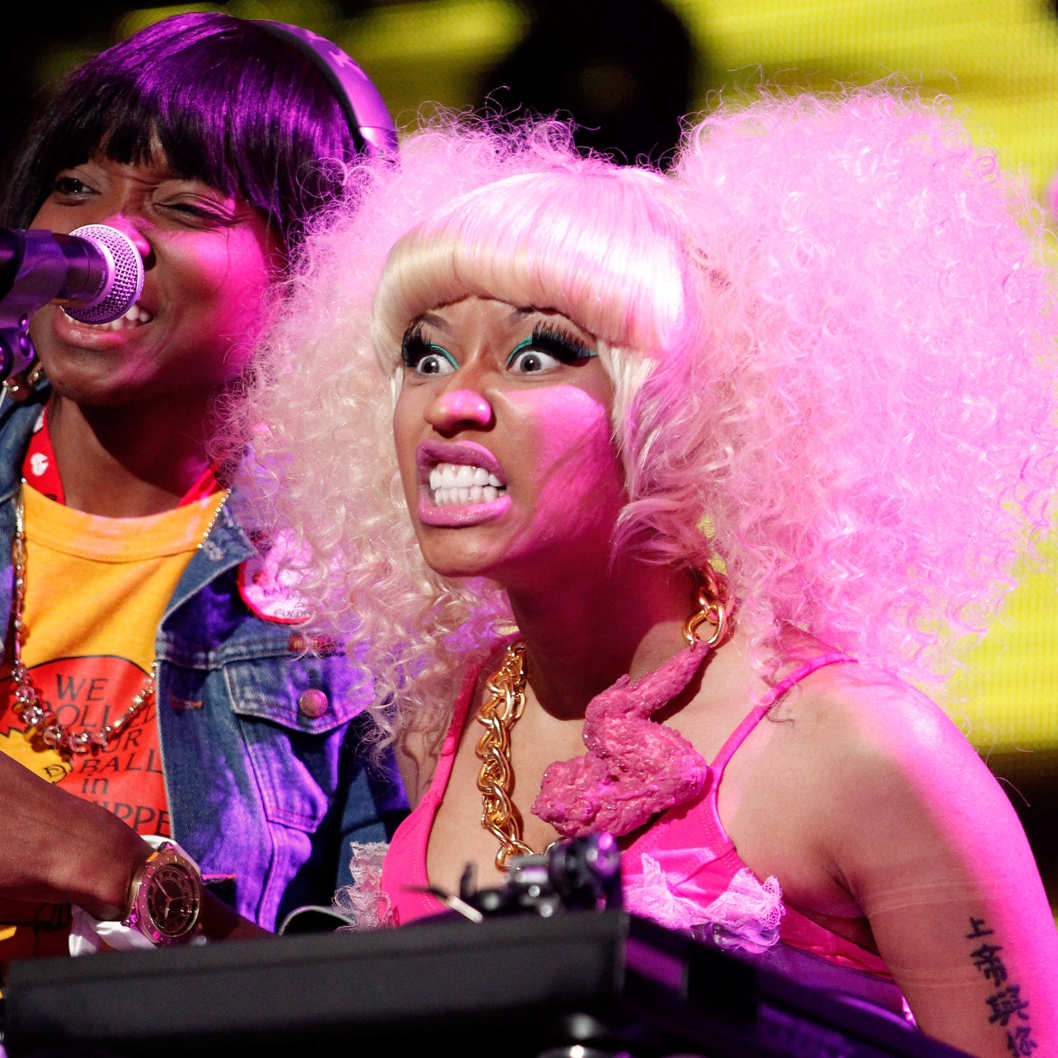 Hot 97's Summer Jam, where Nicki Minaj's pioneering female headlining set on Sunday was beef-stricken and canceled, is the same event where Jay-Z ripped Nas apart with the debut of "Takeover" in 2001. Nas's response? To come back with the arguably more destructive "Ether."
Eleven years later, like it or not, that script goes down like this: Hot 97 D.J. Peter Rosenberg goes onstage hours before Minaj's scheduled performance, calls her crossover megahit "Starships" "bullshit," and alludes to its singer's lack of a place in the canon of "real hip-hop." Minaj's "Ether," here? Verse One) A Lil Wayne-mandated kibosh on her headlining spot, which would've featured Lauryn Hill, Nas, Lil Wayne, Foxy Brown, 2 Chainz, and Cam'ron. Verse Two) A lot of tweets — mad tweets, nonchalant tweets, and retweets of supportive and irate fan-tweets. And, finally, Verse Three) A very, very long argument with Hot 97 Funkmaster Flex — who joined the fray after Minaj's cancellation by proclaiming live at Summer Jam that "we ain't fuckin' with commercial rappers no more" and "I'm dedicated to tearing you down."
Here, the five best moments from that on-air beef. Flex had a couple good bits and maybe half an okay point in there, but he was wayyy too aggressive and loud and interrupting and point-missing to land any moments over Minaj — these are all her.
• "I'm a grown-ass woman, and everyone is grown enough to keep their opinions to themselves in order to give people a great time. I've traveled all around the world, and people come with one agenda, and that is to have a good time. Not to have their favorite artist be ridiculed or be made fun of. I am not a joke."
• "There hasn't been one single solitary human being in the history of the world, a female rapper, to sell more than my first or second album in the first week."
• "When you disrespect Nicki Minaj — and I don't care if it was in front of 2,000 people, which can equate to 2 million people when it's streaming live — you're disrespecting my fans. See, I don't have a problem with anyone saying what they have to say to me. But don't make those 3 million people that downloaded 'Starships' or whatever they downloaded, don't make them feel like they're inferior in any way for their personal taste in music."
• "If it's all love and you want the fans to see everyone, know that Nicki Minaj sold a lot of tickets for yesterday, and know that she deserves love and respect. And for you to single out one female on the bill, if that's not some bitch-ass shit — for this person to single out the only female on the bill? I'm holding it down for women."
• "THERE ISN'T A BITCH ALIVE — and when I say bitch I'm including men, because when they act like that they're bitches — there isn't a human being alive, that God has created on this planet earth, that could scare me out of doing a show. I get money. I get money."
There you have it. This is 2012, and this is beef. It's also worth noting that Minaj says she'll make up the cancellation with a free hometown show in NYC this summer.