Yoko Ono, Thurston Moore, and Kim Gordon Are Making a Mini-Album
Called <em>YOKOKIMTHURSTON</em>, so you know who's who.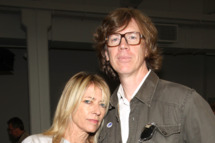 Ono and the recently separated Sonic Youth couple just released the fourteen-minute single "Early in the Morning," to benefit Ashinaga Rainbow House, and now they'll follow that collaboration up with a six-track album. It's called YOKOKIMTHURSTON, and it will be released in the fall. Yoko Ono, always bringing people back together.