Rob Zombie Makes Hockey Movies Now
He's making a movie about the seventies-era Flyers.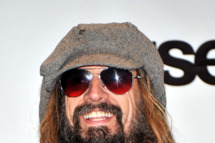 Rob Zombie will write, direct, and produce a new movie about the Philadelphia Flyers, according to Deadline. The film, Broad Street Bullies, covers the franchise during the seventies, when the Flyers and their brutal style of play rose to prominence. Zombie has the Flyers' full support, and he "likened the tone to the tale of Rocky meets Boogie Nights." How could this be anything other than a masterpiece?