Sad-Sack Comedians + Manic Pixie Dream Girls: A Rom-com Template
The new movie <em>Seeking a Friend for the End of the World</em> hits some familiar beats.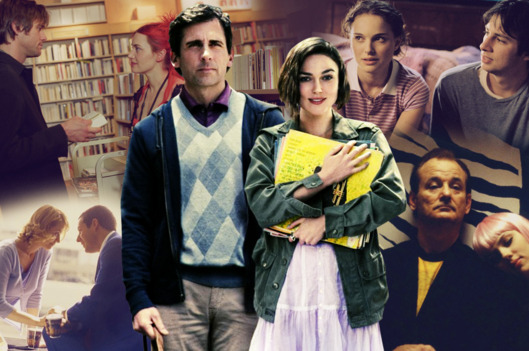 If the Steve Carell romantic dramedy Seeking a Friend for the End of the World seems a little bit familiar, there's a good reason for that: At some point in his career, almost every comedic leading man will ditch the smile for a film where he plays a vaguely depressed man who is redeemed by a younger woman. This time around, those roles are filled by Carell and Keira Knightley, but in the past, we've had Jim Carrey and Kate Winslet in Eternal Sunshine of the Spotless Mind, or Zach Braff and Natalie Portman in Garden State, or Ben Stiller and Greta Gerwig in Greenberg. And don't forget Bill Murray and Scarlett Johansson in Lost in Translation, Adam Sandler and Emily Watson in Punch Drunk Love, Joseph Gordon-Levitt and Zooey Deschanel in (500) Days of Summer, or even Tom Hanks and Meg Ryan in Joe Versus the Volcano! Is there a method to their sadness? Here at Vulture, we believe we've cracked the sad clown–dream girl code.
He's a sad-sack American comic actor ...
(Carell, Carrey, Stiller, Sandler, Murray, et al)
... playing a guy who just got out of a bad breakup ...
(Seeking a Friend for the End of the World, Eternal Sunshine of the Spotless Mind)
... who struggles with a menial, soul-sucking job even though he's meant for better things.
(Seeking a Friend for the End of the World, Joe Versus the Volcano, (500) Days of Summer)
Also, his death appears to be imminent.
(Seeking a Friend for the End of the World, Joe Versus the Volcano)
She's a younger actress ...
(Knightley, Winslet, Gerwig, Deschanel, Johansson, et al.)
... with an Oscar nomination already under her belt ...
(Knightley, Winslet, Watson, Portman)
... and she might be from the U.K.
(Knightley, Winslet, Watson)
Her character is also a few years younger than our male lead.
(Garden State, Joe Versus the Volcano)
Maybe even 15 to 22 years younger.
(Seeking a Friend for the End of the World, Eternal Sunshine of the Spotless Mind, Greenberg)
Maybe even 34 years younger!
(Lost in Translation)
Her character has kooky hair, often seen in in a variety of styles ...
(Seeking a Friend for the End of the World, Eternal Sunshine of the Spotless Mind, Joe Versus the Volcano)
... and she's very vocal about the music she likes.
(Seeking a Friend for the End of the World, (500) Days of Summer, Garden State)
When they meet, he really can't believe her enthusiasm and zest for life.
(Seeking a Friend for the End of the World, Garden State, Greenberg)
And when they finally have sex, she's obviously the one who initiates it.
(Seeking a Friend for the End of the World, Greenberg, (500) Days of Summer)
Slap an eccentric, wordy title on the whole enterprise, and you've got yourselves a movie!
(Seeking a Friend for the End of the World, Eternal Sunshine of the Spotless Mind, (500) Days of Summer, Joe Versus the Volcano)