Following Muppet Trend, Sesame Street Gets a Movie
Just weeks after the <em>Fraggle Rock</em> movie found its writers.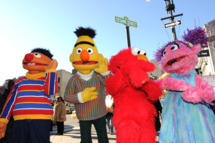 From the department of Recently Resuscitated Muppets and Forthcoming Fraggles, Sesame Street is getting a new movie, with 20th Century Fox presenting a big-screen adaptation of the 43-year-old series. (Depending on your age, you may or may not remember 1985's Follow That Bird and 1999's The Adventures of Elmo in Grouchland). Joey Mazzarino, a veteran writer on the show, will handle the screenplay. Per The Hollywood Reporter, the show's Sesame Workshop company should be involved in a production capacity as well. Start digging to figure out how much Big Bird gets offered to do this thing.