Soderbergh and Tatum Will Produce Magic Mike: The Musical
Targeted for next summer.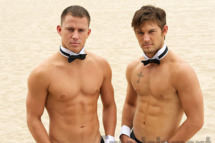 For the few of you who didn't already set up Google Alerts for "Magic Mike Broadway musical," essential new info has arrived: Steven Soderbergh and Channing Tatum will produce this beast, and it's being tracked for the summer of 2013. With Tatum sticking close to the project, Alex Pettyfer's dream of he and his film co-stars comprising the opening night's cast might actually happen. But still mail your G-strings to the TKTS booth in Times Square. Better safe than sorry.