Rock of Ages and That's My Boy Flop, As Expected
Despite considerable star power.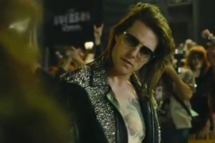 This weekend's two openers, star-studded Rock of Ages and Adam Sandler doofus comedy That's My Boy, both struggled to earn even $15 million in the box office, the latest in a line of studio flops. Deadline's Nikke Finke chalks Rock of Ages' failure up to the Russell Brand–Tom Cruise likeability problem, while we'd wager Adam Sandler's appeal might be aging out. Still leading the pack this weekend: Madagascar 3, proving once again that lemurs and penguins are a winning combination, and sci-fi thriller Prometheus, whose teensy plot holes are beginning to eat into its ticket sales.