Those Lone Ranger Budget Cuts Didn't Work
The Johnny Depp movie is way over budget again.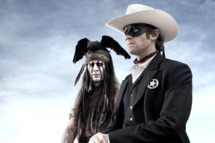 Remember when preproduction on the Johnny Depp–Armie Hammer vehicle The Lone Ranger was halted so that Disney could shave the budget down from $250 million to $215 million? Well ... The Hollywood Reporter writes that the movie has fallen way behind schedule, and one source says the budget has ballooned well past the figure that first spooked Disney. Next time Depp and Brad Pitt get together to trade color-tinted sunglasses (they do this, don't they?), one imagines they'll have a lot more to talk about.