Tommy Chong Treating His Cancer With Weed, of Course
He was diagnosed last month.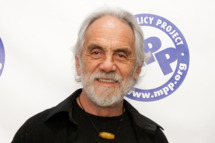 "I know it had nothing to do with cannabis. Cannabis is a cure."—Weed-famous comedian Tommy Chong, one half of Cheech and Chong, explaining on CNN that his prostate cancer, diagnosed last month, first manifested during a (rare) drug-free period. Naturally, he is treating it "with hemp oil, with cannabis."