Would You Like to Go on a Girls Tour of New York City?
The option will probably be available soon.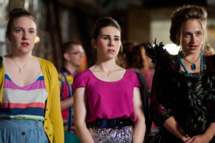 Sure, Girls viewers can already find their way to Café Grumpy using WNYC's interactive Google Map, but that DIY approach is not making anyone any money. And, as the New York Times reminds us, Sex and the City–themed tours of the city exist, and Girls is not dissimilar to Sex and the City, particularly when it comes to the coverage and marketing surrounding it. When asked about the possibility of capitalizing on fans' desire to be officially shuttled to the many Williamsburg street corners featured on the show, the owner of On Location Tours (the operation before the aforementioned SATC experience) told the paper, "It is very interesting that you ask that question. Approximately 37 minutes ago, we had that discussion." There you have it.