Yes, Elvis Is Getting a Hologram
Sorry, Elvis impersonators.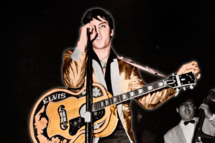 As predicted, by this concert promoter and basic probability, Elvis will be following in Tupac's ghost footsteps with a series of hologram performances. Digital Domain, the company that helped bring Tupac to Coachella, will produce a "series" of digital Elvises for a "range of entertainment projects." Vulture sincerely hopes that those projects include bar mitzvahs. Ghost Elvis Theme! You can't top that.