Is YOLT the New YOLO?
Don Draper says yes.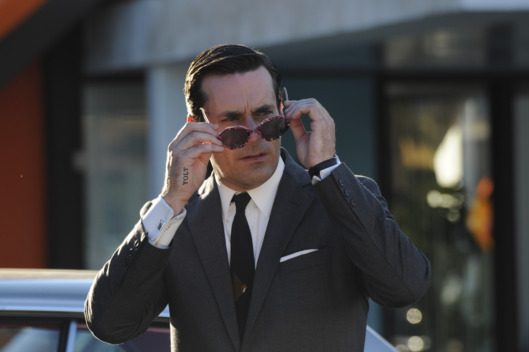 Though there are many thought-provoking works featured in this Bonnaroo graffiiti roundup (Beyoncé for president! We're onboard), Vulture would like to draw your attention to the large, bubble-lettered YOLT that some prescient hippie scribbled inside a donut. "You Only Live Twice!" We've heard that before — very recently, in fact, on the Mad Men season finale, when Nancy Sinatra's Bond theme soundtracked a Roger Sterling ass shot and inspired a thousand YOLT-YOLO jokes on Twitter. (For those of you who do not keep up with Drake's driving gloves or Zac Efron's tattoos, YOLO does in fact stand for "You only live once," and it has become the kids' hashtag of choice, thanks to this awesome song.) Drake is already distancing himself from the ubiquitous YOLO, and surely a new phrase wouldn't pop up in two such culturally (okay, generationally) distinct realms out of sheer coincidence. So, are we YOLT-ing instead of YOLO-ing now? Don Draper's hand says yes.