Thirty-Three-Year-Old Tickets to the Who Are Still Valid in Rhode Island
Ticket holders from a canceled 1979 gig got to cash in for seats to the new tour.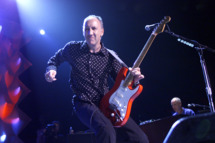 Bands are always regretfully canceling concerts and promising makeup dates or, infinitely worse, refunds. Rhode Island fans of the Who went years, then decades waiting for word from their rock idols, and finally got a chance on Tuesday to redeem their tickets to a scrapped 1979 gig. Fourteen people cashed in their 33-year-old tickets for seats at the Quadrophenia tour's Dunkin' Donuts Center stop next February. Don't let anyone tell you hoarding isn't worth it.