Expect a 'Gay Makeover' for Hannah's Apartment on Girls
Andrew Rannells teases the Hannah-Elijah move-in.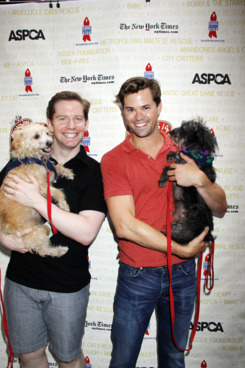 If you were hoping that Girls' second season would pick up with Hannah having a change of heart and inviting Adam to live with her, then (1) You probably have very dysfunctional relationships, and (2) you may be disappointed. According to Andrew Rannells, Hannah is going to make good on her offer to Elijah, her out-of-the-closet ex, and let him move in. "It is a little Odd Couple," Rannells told Vulture at a Broadway Barks animal adoption event on Saturday. And while he wouldn't reveal any specific plot points, he did tease that the living situation was "maybe not safe emotionally" for Hannah — and he promised a "gay makeover" for her apartment. "Elijah cutes [the place] up," he told us. "I sort of Domino the apartment. Have you seen that magazine? I go and do a Domino sweep to that apartment — to death. Unfortunately, this does not translate to her wardrobe." Next up for Rannells is Ryan Murphy's The New Normal. "I got to finish the second season of Girls, which is great, and now I have to start packing right away. I leave for Los Angeles Monday." You know what that means: There's hope for Adam yet.